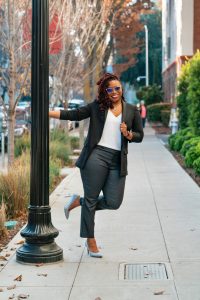 Verde Arzu is a Black womxn. Verde Arzu is a Black queer womxn. Verde Arzu is a passionate, Black queer writer. Verde Arzu's preferred pronouns are she/her. She has been writing stories for as long as she can remember growing up on both the West Side and South Side of Chicago. Her stories draw from these experiences, as well as the experiences of being Black, womxn, and queer in America. She traces her passion for writing stories about Black queer characters from her desire to see more characters' stories and hear more characters' voices she can relate to.
Arzu graduated from the historic Fisk University. Fisk is a historically black college and university (HBCU) located in Nashville, TN. There she earned a B.A in History. Many of her stories are centered around her HBCU experience and her love for Black American history.
Alongside her love for writing is her love for education. She is also a passionate, middle school special education and English teacher. Her love for teaching pushed her to go on to graduate school where she earned a Master of Science in Special Education from National University. Verde is not only a teacher but an advocate working to ensure equity for students of color, focusing specifically on those with learning differences. Verde believes that education is a top civil rights issue of the 21st century.
Verde completed a post-baccalaureate certificate in writing from UC Berkeley Extension in December of 2022. She plans to continue to work on the craft of writing through classes & workshops, while publishing novellas & short stories, centered on Black, lesbian and queer lives & relationships.
Verde is currently working on her second novella, PROMISE KEEPER, expected to be released January  2024. In addition to working on her upcoming novella, Verde writes opinionated blogs on topics that move her soul, on "VA's Blog," which are published on her website. She is also the host of Verde's Folding Chair, a podcast dedicated to making space at the table for Black, queer, womxn, and independent writers. You can listen to Verde's Folding Chair on all major podcast platforms.
Arzu resides in Northern California with her beautiful wife and two furry, four-legged children, Bob and Marley. She enjoys reading books written by Black authors. She is a die-hard Chicago sports fan. In her free time, she enjoys playing tennis, basketball, biking, binge-watching her favorite TV shows, and of course, cuddling up with a good book!
Learn more by clicking the links below! 
https://www.instagram.com/the_writer_verde_arzu/
https://www.tiktok.com/@verde_arzu?lang=en